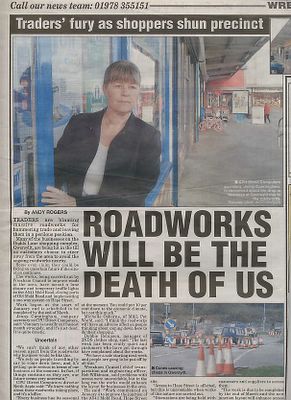 Since New Year, there have been extensive roadworks on the main road by our shopping precinct, so, whereas January should be the shop's busiest month - I know you would expect it to be pre-Christmas, but that's the way it is - this year, trade has been about 20% down on last year. Other shops on the site have had similar experiences, so I rang the local council, twice, and am still waiting for my calls to be returned.
So, on to plan B - contact the local paper and see if they are interested in doing an article about the situation.
That worked a treat!
This morning a reporter and photographer hurtled over to interview us and take our photos - Keith and mine, as we were the only ones there at the time. However, to Keith's chagrin, out of all the photos they took, they picked one with just me on.
"Stand at the door, looking concerned at the empty carpark," said the photographer, so I did - you can see the result!
Still, I am on the front page and in the full article, which is on page three!
Fame at last!!!
Autographs can be requested through the 'comments' ! lol